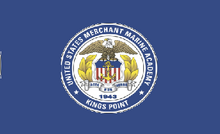 he United States Merchant Marine Academy (also known as USMMA or Kings Point) is one of the five United States service academies. It is charged with training officers for the United States Merchant Marine, branches of the military, and the transportation industry.
Midshipmen (as students at the Academy are called) are trained in marine engineering, navigation, ship's administration, maritime law,personnel management, international law, customs, and many other subjects important to the task of running a large ship.
Ad blocker interference detected!
Wikia is a free-to-use site that makes money from advertising. We have a modified experience for viewers using ad blockers

Wikia is not accessible if you've made further modifications. Remove the custom ad blocker rule(s) and the page will load as expected.