The United States Department of War, also called the War Department (and occasionally War Office in the early years), was the United States Cabinet department originally responsible for the operation and maintenance of the United States Army. The War Department also bore responsibility for naval affairs until the establishment of the Navy Department in 1798 and for most land-based air forces until the creation of the Department of the Air Force in 1947.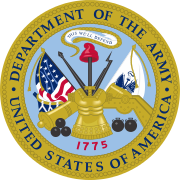 The Secretary of War headed the war department throughout its existence. The Secretary of War, a civilian with such responsibilities as finance and purchases and a minor role in directing military affairs, headed the War Department.
The War Department existed from 1789 until September 18, 1947, when it split into Department of
the Army and Department of the Air Force and joined the Department of the Navy as part of the new joint National Military Establishment (NME), renamed the United States Department of Defense in 1949.The seal has the same Symbol as The US army seal And An Board seal With the Same Us army look
Ad blocker interference detected!
Wikia is a free-to-use site that makes money from advertising. We have a modified experience for viewers using ad blockers

Wikia is not accessible if you've made further modifications. Remove the custom ad blocker rule(s) and the page will load as expected.